About Us
GALACTIC ALUMINUM SCAFFOLDING AND LADDER TECHNOLOGY INDUSTRY established in the year 2000 is manufacturing and sales of all types of Movable Aluminum Scaffolding, Industrial and DIY (Do It Yourself) Ladders. With a keen eye for safety, durability, and simplicity GALACTIC ALUMINUM SCAFFOLDING AND LADDER TECHNOLOGY INDUSTRY now is continually expanding its range to maintain as a leading designer, manufacturer, and supplier of access equipment. As a leader in this industry with its largest inventory in the business, the company is well-positioned with compelling unique offers and services that are not limited to local and export sales, customization, engineering, and alteration. All these translate the ability to meet and tailor to a variety of different needs and to adapt at any time.
The factory is equipped with state-of-the-art machinery with the latest, updated technology fully precise, and automatic machines. The complete automation of our production department makes it possible to maintain premier quality standard-essential characteristics of our company.
The products are developed by sincere professionals with experience and expertise, people who understand what the customers need, to work at height safely and comfortably. Naturally, always keeping in mind the basic requirements of the existing standards and regulations. As a trusted company in this growing market, GALACTIC ALUMINUM SCAFFOLDING AND LADDER TECHNOLOGY INDUSTRY has dedicated itself to build a respectable brand that is known for its fast delivery time, uncompromising product quality, competitive price positioning, and the drive to shoot for excellence.
GALACTIC ALUMINUM SCAFFOLDING AND LADDER TECHNOLOGY INDUSTRY are ideal for indoor and outdoor access solutions where a stable and secure platform is required. These towers provide a strong working platform at various heights. The towers are supplied ready to erect. Our scaffolding towers are constructed out of strong Aluminium alloy tubes (extruded to British standard). Why GALACTIC ALUMINUM SCAFFOLDING AND LADDER TECHNOLOGY INDUSTRY Salient features of our company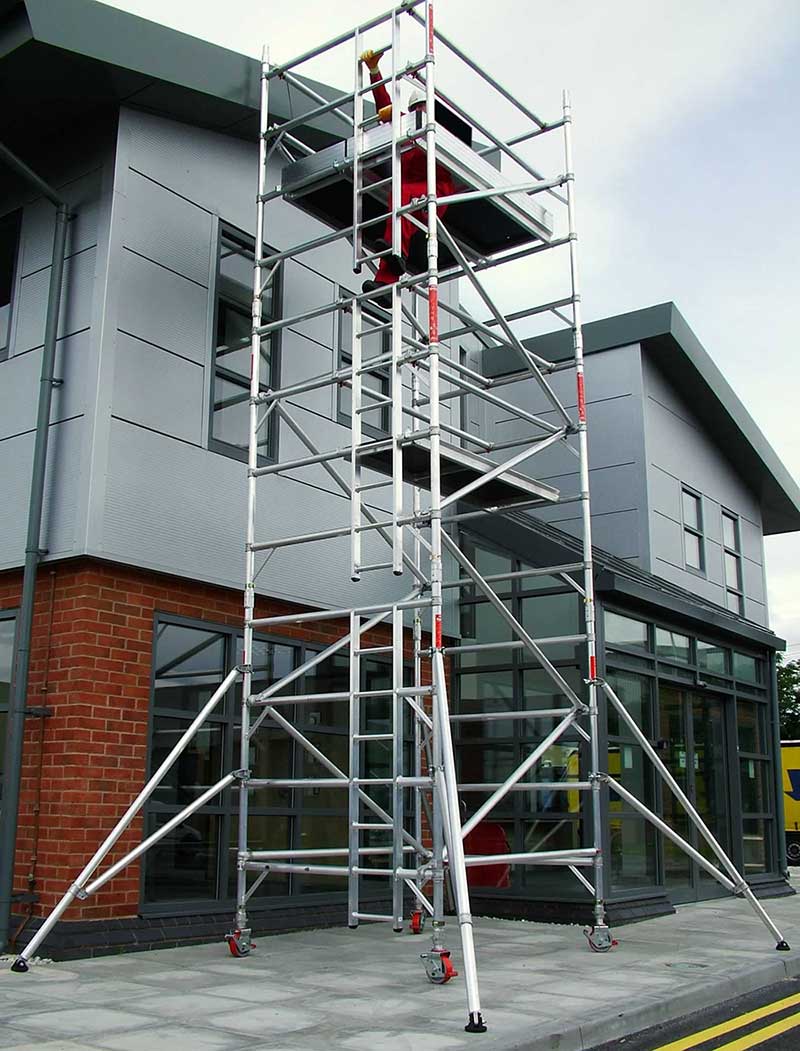 Highest standards of Engineering and Design.
State of art facilities.
Stringent quality control.
Experienced professionals and R&D Department.
Large production capacity with the large product line.
Wide distribution network.
Competitive prices.
Easy payment modes and terms.
Timely delivery of the product.
Open to new and complex challenges.
Sound financial position.
After-sales support.
Ethical business policies.

Client Satisfaction Our main motive has always been in achieving utmost customer satisfaction through manufacturing and supplying the best quality products at reasonable prices.
The continual order from clients is the confirmation of our transparent deals and quality products.
Our Service and Repair Department carries out repairs, service/maintenance, and inspections on all types of Aluminium scaffolds.
Our strength lies in the combination of excellent products and high-quality service. Because of good after-sales service we have come up as a market-leading manufacturer of Aluminium scaffolds in Pakistan, U.A.E, G.C.C, ASIA.
We can arrange for service and/or maintenance to be carried out at our workshop.